Fjord Cruises for 2023 will take you to all the best locations:
Stavanger 
–

Lysefjord 

–

  Pulpit Rock / Kjerag Boulder 

–

  Hardangerfjord 

– 

Bergen
Experience the magic of a Norway Fjords Cruise on a private yacht
Charter a private yacht and cruise Norway's famous fjords to experience breath-taking mountain scenery, untouched and wild in nature's very own playground. A must for lovers of the outdoors, experience luxury in the heart of nature. A Private Cruise in the famous Norwegian Fjords delivers a luxury yachting experience like no other. With over 25,000 kilometres of rugged, mostly untouched coastline, you'll enjoy Norway's stunning mountains, fjords and breath-taking Scandinavian scenery from the best possible angle: the water.
Visit shorelines only experienced by a lucky few. Make the most of long summer days and magical natural-light to take in Norway's famous scenery. Contact us and we will be happy to plan trips for you throughout southern Norway – we can customize to most requests!
Our 2023 norway fjord cruise options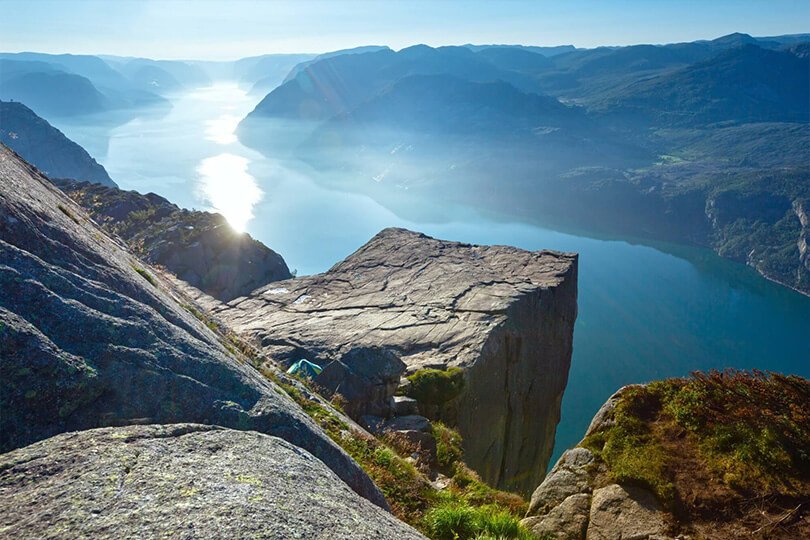 Marquis yacht: 3 hours
BAROLO yacht: 4 hours
Lysefjord is one of the most spectacular fjords in Norway, hands down. Witness the famous mountain formation of the Pulpit Rock (Preikestolen) rising above you, with an impressive supporting cast of waterfalls, idyllic island and a magnificent scenery of cliff and canyons. A cruise of a lifetime!
Marquis yacht: 6 hours
BAROLO yacht: 7 hours
This highly recommended and unforgettable cruise tour will take you from Stavanger into the spectacular Lysefjord, passing the famous Preikestolen (Pulpit Rock), the waterfall Hengjarfossen, Kjerag Boulder (The crown of Lysefjord), exploring the old power plant village of Flørli and beyond.
Marquis yacht: 2 hours
BAROLO yacht: 3 hours
Enjoy an exclusive 2-3 hours cruise around Stavanger's idyllic islands and taste the good life on board your very own private yacht. Your captain will take you to some of Stavanger's most beautiful surroundings, whilst you enjoy a glass of bubbles with the amazing view.
1-2-day cruises to Ryfylke or Lysefjord Stavanger
BAROLO yacht: 24 hours / 48 hours
The anchor will be dropped between idyllic islands and engines stopped to enjoy the nature, silence and some delicious Norwegian seafood – together with the stunning scenery of the fjords. This trip is for the ultimate Lysefjord experience.
BAROLO yacht: 5 days
On this particular cruise, perfect for up to 6 people, we start from Stavanger or Bergen – the home of the fjords and the Vikings. Depending on where your journey starts, we take you to some of the most interesting places along the coast.
Activities and excursions from LysefjorD & Hardangerfjord
In addition to the cruise itself, and the sights we take you to, you have the option of adding optional activities that vary depending on the day, location and conditions. Have a look at some of the activities you can look forward to here!
Are norwegian fjords worth seeing? Don´t just take our word for it, take a look for yourself
Movies from our fjord cruises
dive into the world of norway fjord cruises
Get inspired by our posts
If you're looking for a unique and breathtaking holiday destination, look no further than a fjord cruise in Lysefjorden, Norway. Located in the southwestern region of...
Preikestolen, also known as Pulpit Rock, is a massive granite cliff located in the Lysefjorden region of Norway. Standing at a height of over 600 meters (2,000 feet),...
"Three couples, one motorboat, a terrific skipper and beautiful scenery…all the ingredients for a brilliant day on the water. Our cruise took us through the breathtaking Lysefjord to gaze up in wonder at the famous Pulpit Rock, where we drank champagne washed down with clear, pure water scooped from the nearby waterfall. It was an idyllic, laughter-filled, memorable trip that we wouldn't hesitate to recommend. Thank you to our friendly, knowledgeable and professional skipper"
– one of many 5 star reviews on Tripadvisor, this one from user "Sjammal" 
Click logo for more reviews