Downloadable images, info & other
For our partners
On this page you will find various information tailored for our partners, from downloadable material to use in your marketing campaigns, information about future events or partnerships, information about commission deals, details on how to travel or get to Stavanger, how to get in touch with us, etc..
Here we have selected some of our favorite high quality pictures in one place for you to download and use in your marketing or promotional material in regards to promoting our services.
These images can be used in banners, on websites, in brochures – or wherever you see fit – but only for promoting our company or services. You may not use these images for promoting other services or companies. 
Please don´t forget to credit Private Cruise or privatecruise.no whenever using some of these images.
You will find more pictures to download by clicking the button, which will take you to a One Drive Folder with a wide selection of high quality images.
For a nice and quick introduction of our services, you can visit this page.
Private Cruise presentation
Need a presentation to show potential clients, agencies or Tour brokers? 
Download the provided document to have a deliverable of the most essential information and highlights of Private Cruise. The presentation is a short 2-page document which covers the most important details of the company and our services.
Private Cruise template ads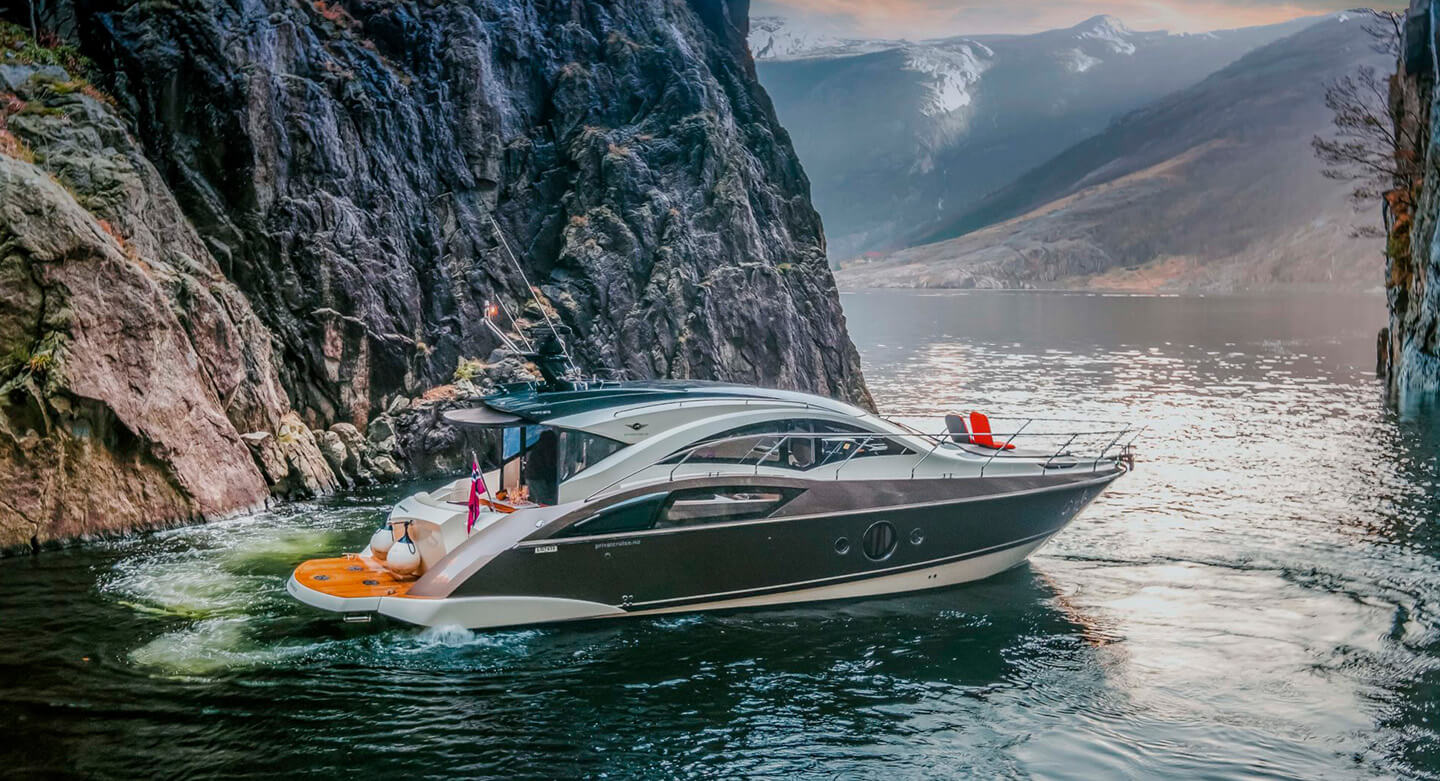 The yacht with Italian design is a 44 foot Sports Cruiser, built by the the exclusive American yacht builder Marquis Yachts and was imported to Norway brand new in 2013. The modern and successful Italian design has been able to combine elegance and sportiness with a strong feel of luxurious style that you as a VIP passenger will appreciate both visually and comfort on-board.
Some of the equipment on board for your comfort: Two refrigerators to store a broad selection of first class food and drinks, ice-machine and Nespresso machine. Advanced climate system with both air-condition and heating for comfort during summer and winter. Modern entertainment system with LED-TV and a powerful stereo equipment and free high speed WIFI.
This is the perfect yacht for groups of up to 7 people. 
Detailed information
| | |
| --- | --- |
| Size | 44 feet / 13 m |
| Year built | 2013 |
| Cabins | 2 |
| Sleeping quarters | 4 |
| Max passengers | 7  |
The Barolo iii – 21m (71ft)
The largest yacht in Stavanger, ready to take any group of up to 12 people through the beautiful landscape of the Norwegian Lysefjord. The yacht is type Princess, 71 feet (21 meters) and has 3 spacious VIP double guest-cabins, each with their own bathroom with shower, sink and toilet. The crew has their own separate cabin. The are a total of 8 sleeping quarters.
The interior also includes a fully equipped kitchen, a spacious dining area, a large relaxing area with seating, as well as a top exterior deck with great views that fits up to 12 people. On the back of the yacht there is also a dining/relaxing area with spacious seating. There is also a Williams 345 attached (for up to 5 people) to get more out of your adventure if you crave a little excitement. 
This is the perfect yacht for groups of up to 12 people.
Detailed information
| | |
| --- | --- |
| Size | 71 feet / 21 m |
| Year built | 2007 |
| Cabins | 3 |
| Sleeping quarters | 6 + crew |
| Max passengers | 12 + 3 crew |
Stavanger is located on the south west part of Norway, and offers easy access by plain directly from several European cities and easy transfer through hubs like Copenhagen, Amsterdam and London for overseas travelers.
Stavanger has Norway's second largest airport when it comes to international air traffic. To/from Stavanger International Airport Sola, there are direct flights from more than 60 destinations in Norway and abroad.
An airport shuttle bus links the airport and the city centre of Stavanger. It departs every 20 minutes, and travel time is approximately 30 minutes.
Tours map
This map shows the progression of the tours. Depending on the tour chosen, it might go around in Ryfylke, to the end of the Lysefjord, or it may be shorter. To see more detailed information about each trip, visit our tours page.
Partnerships and information
There are always something happening with Private Cruise, like new partnerships, upcoming new tours, exciting news and information. Here we will post relevant updates and other useful information that might affect our partners and our future endeavours.
If you wish to be featured here, or wish to offer services that we can use as part of our tours, feel free to get in touch with us so that we can discuss it further.
We are always looking for options to expand our services and increase our quality.
GET IN TOUCH FOR MORE INFO: 
Telephone: +47 934 97 707
E-mail: post@privatecruise.no
We're open 24 hours – all days – all year
VAT Registration number Private Cruise AS / 922 95 6731
The Bolder Sky Lodges
"Our SkyLodges are 22 square meters and includes two double bedrooms, designer kitchen from Vipp, fully equipped bathroom and a dining room with a view to die for.Go to sleep and wake up immersed in nature.With fully adjustable beds you have the option to relax and recharge – your way."